[ Home ] [ Leadership ] [ About Bill ] [ News ] [ Chuck ]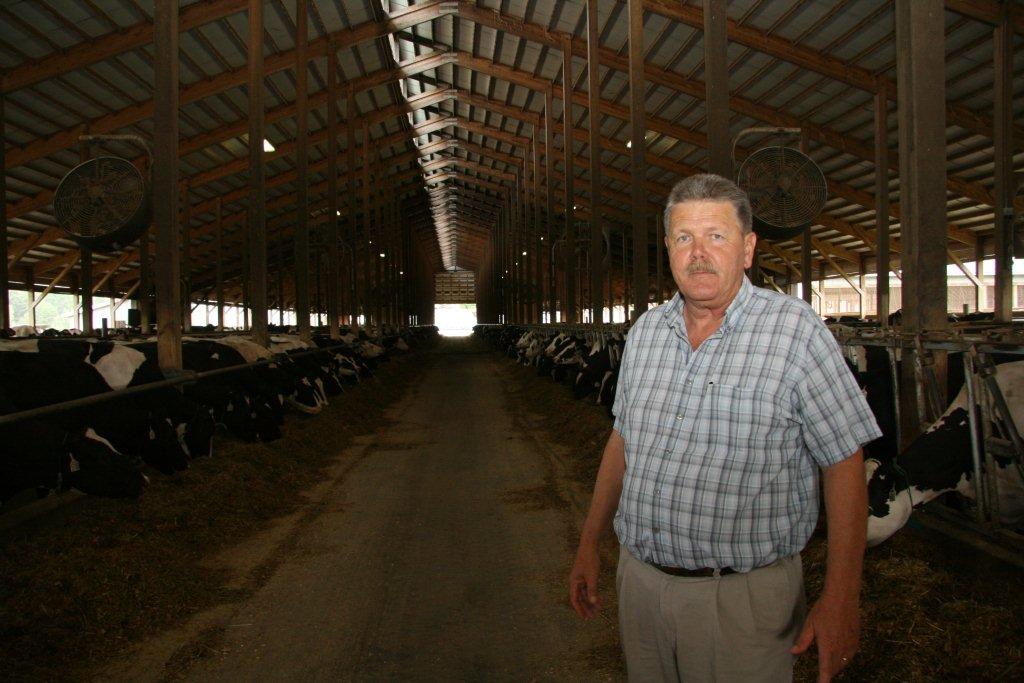 Agriculture relies on leadership capable of recognizing our needs, bringing the system to focus on today's challenges and delivering responsible timely solutions.
---
As State Regs Tighten, Vermont Dairy Farmers Seek Unifying Voice
Leon Thompson, Vermont Correspondent Sept 23, 2016
Lancaster Farming
---
Vermont Farmer and GMO Proponent Likes Federal Bill But Others Are Not Pleased
Leon Thompson, Vermont Correspondent Jul 30, 2016
Lancaster Farming
---
Vermont Breakfast on the Farm
Green Mountain Dairy Walks the Walk and Talks the Talk
Text and Photos by Laura Cahners Ford.
Watch the Video - use the password Pancakes
---
Vermont Breakfast on the Farm gives public free tast of farm life - St. Albans Coop
August 29, 2016 By Krista Paradee
---
In the Land of Milk and Money
Text and photos by Étienne Gosselin, agronomist, M. Sc.
Read the article
---
Global News - Vermont's food fight over mandatory GMO labelling
October 7. 2014
Vermont is known for its lush rolling hills, unique farm stands and local food markets, but the Green Mountain State is now home to a big legal battle.
Read more and watch video interviews
---
The GMO Issue
April 14th, 2014
I would like to speak from the perspective of both farmer and consumer as we look at this anti GMO sentiment that has continued to surface.
I do understand that as a consumer we are concerned with "the quality" and "the integrity" of the food we eat, I know that I am, and I would expect no less from anyone else....Read More
---
Unhealthy Fixation
By William Saletan
July 15, 2015
"The war against genetically modified organisms is full of fearmongering, errors, and fraud. Labeling them will not make you safer.".....Read the article
---
How I got Coverted to G.M.O. Food
April 24, 2015
---
Global News
GMO Labelling: Dairy farmer wants science not sentiment to lead GMO labelling debate
---
USA Today GMO Story
Dan D'Ambrosio, USA TODAY 3:41 p.m. EDT June 9, 2014
BURLINGTON, Vt. -- There was a celebration on the Statehouse steps in May when Gov. Peter Shumlin signed a bill into law that made Vermont the first state to require labeling....Read More
---
Aljazeera television / radio
October 2, 2014 - Broadcast in English world wide throughout 110 countries.
US food labelling move faces challenge
See the video password - jazeera
---
Letter of Appreciation
September 13, 2014 - Letter of appreciation for hosting a farm tour and participating in The National Association of State Departments of Agriculture (NASDA) conference on "Ag Literacy".
---
Tour Green Mountain Dairy
Bill Rowell's family began farming in the United States in 1637. Today, he continues that tradition on Green Mountain Dairy Farm in Sheldon, Vermont where he and his family work every day of the year to produce wholesome and nutritious milk. "I'd like the consumer to know that the product you're getting is top quality," says Bill. Learn more about his family's dairy operation by taking this virtual tour of Green Mountain Dairy Farm.
Watch Green Mountain Dairy's 'Must be the Milk'
---
Finally a Farm Bill
February 2, 2014
Early on it seemed the task at hand was to change the attitude of our entire country, farming operations had long been in decline, the rural community across America was deteriorating, and agriculture was being cast in an unfavorable light... Read More
---
Rep. Welch outlines plan to address dairy price volatility
At the McNall family farm in Fairfax, Welch announced he will introduce the Dairy Price Stabilization Act next week with Rep. Jim Costa (D-Calif.).The legislation calls on the U.S. Department of Agriculture to determine on a quarterly basis the capacity for growth in the dairy market. Watch the announcement
Also, associated with the announcement is a story at the "Got Manure" conference in Syracuse at the Ag Star conference, Watch "Got Manure"
---
Cow Power Turns Manure Into Electricity
October 19, 2013
SHELDON, Vt. — This idea was the seed, according to Bill Rowell: If a region, state or country wants to be energy independent, with stability, and protect its environment, it should use its available resources.
To Vermont farmers, their most abundant resource was obvious...Read more
---
On The Farm
May 18,2013
Dear Senator,
I am a dairy farmer anxious to see a new Farm Bill, one which offers the potential, through its tools and policy, to improve conditions for the dairy farmer. 1970 recorded 648,000 dairy farms in this country, today 49,000 remain, though fewer in number we produce a burgeoning supply of milk, which at times over supplies the market. Our need is to better utilize farm assets, rather than infrequently, but nonetheless, supply the market below our cost to produce milk, and then require government help. The question of need is evidenced by declining farm numbers...Read More
---
Uphold DSA
Agriculture requires a great deal of planning and capital to observe its cycle, this ongoing effort serves to increase productivity, improve efficiency, and offer the U.S. consumer an array of quality food products, all for a price of less than anywhere else in the world. While the influence of weather will either increase productivity, or deliver an impact, it is recognized as being well beyond our control. In addition to weather,...Read More


---
America Needs A Farm Bill

December 10, 2012 Living in a society where the snap of a finger has come to reveal our insistent nature, we have expectations that congress will do its job, and work to implement a farm bill. In order to appreciate the importance of a farm bill, we first have to recognize that our farm bill suspends permanent law, something enacted around 1910, and revised in 1949. Every 5 years congress is required to devise, fund, and implement a new farm bill...Read More

---
Farm Bill Response
June 25,2012
I will begin by offering my thanks to the many of you who have put great effort into improving national policy for the dairy farmer, since there is little time for you to hear from everyone I will be brief. I notice that progress on dairy at times seems to stall, and that lobbyists are quick...Read more
---
Dairy Bill Status Report
I am writing to request your consideration and support, and to implement the management tools necessary to prevent the next crisis, which is slated for 2012 if we choose to continue this three year cycle of boom and bust. This devastation can likely be avoided if we prepare ourselves. During 2009 there was little argument as markets began to recede, the producer sector found itself relying on tools and policy that proved incapable of correcting a problem ... Read more
---
A Farewell Tribute To Our Friend, Doug Maddox
December 27, 2011
Riverdale, California
To read click here.
---
International Congress of Milk Producing Nations
I will begin by expressing my gratitude to our friends from Argentina for demonstrating leadership in the dairy industry, for their careful attention to detail in organizing the Congreso Internacional de Productores de Leche (CIPLE) , and for their kind hospitality and friendship. This International Congress of Milk Producers was convened in Argentina in the City of Villa Maria, Cordoba, September 19, 2011, the two day program was repeated in Sunchales, Santa Fe, a region some 300 km distant, and concluded there on September 23'rd. In attendance were a total of 16 countries... Read more
---
Letter to Colin Peterson
Dear Mr. Peterson
First of all, thank you for your time and effort working to improve national dairy policy. The attached document outlines four proposed amendments to the discussion draft you and Mr. Simpson are working to move forward. The recommendations for amendment represent the unanimous support of the Board of Directors of the National Dairy Producers Organization Inc. In keeping with our commitment to help dairy producers achieve and maintain profitability,.....Read more
---
DMSP Trigger Points
First Change
Establish the trigger point margin (difference between the all milk price and the national average feed cost) as being equal to the national average feed cost. DMSP would be activated when the margin falls below the national average feed cost.... Read more
---
Genex
During the downturn of 2006, we watched trailer loads of milk leave our farm well below what was considered fair market value, the next crisis had already been predicted for 2009, and it was to be followed by yet another sometime during 2012, so on and so forth; we recognized our lack of control over the situation then, and its similarity to the 50's and 60's on our Dad's farm. We agreed that change in national dairy policy would have to take place one day soon and finally recognize the producer as being key to a viable dairy industry, that it would be necessary to develop management tools to address the needs of the producer, and that allowing industry partners to speak for producers all these years had been an apparent oversight on our part, the producer community. Read more
---
A Unified National Response as Dairy Producers
The National Dairy Producers Organization Inc. is a 501 c3 not for profit corporation formed in compliance with Delaware state law, the organization came to exist legally on November 19, 2010. We established a Board of Directors from the organizing committee and then elected corporate officers. Our attorney is Mr. Fred Fielding who served as General Counsel for three U.S. Presidents, and whose offices are located on Pennsylvania Ave. in Washington, D.C. Membership consists of voting members and associate members, voting members must either be a current or retired dairy farmer; associate members are typically those whose livelihood depends on the milk check such as vendors, which account for much of our rural infrastructure across the nation. Anyone can join the organization as an associate member Read more
---
The Morses Line Port of Entry
September 25, 2010
Ladies and Gentlemen, this morning we intend to demonstrate our need and community support for keeping the Morses Line Port of Entry open. Morses Line is a small Port of Entry and does not account for high volumes of traffic experienced at major ports, although it does serve as relief for Highgate Springs during times of heavy traffic, or crisis. To read the entire speech click here.
---
USDA/US DOJ Dairy Workshop
Planting our crops is a great effort and expense, planning, preparing, and then waiting for favorable conditions. Positive results are essential to our livelihood and the decision to proceed usually comes down to common sense and gut instinct, conditions have to be just right, waiting is difficult and time is money.
Since 1970, we have seen the number of dairy farms in this country drop from 648,000 to the 54,000 remaining today. We have seen the consolidation of a number of small farms result in 1 large farm. Read more
---
American Farm Bureau Meeting
January 18, 2010
In view of the fact that the American Farm Bureau (AFB) represents a cross section of agriculture in the United States, its voice is something of a barometer for policy decisions at the Congressional level.
The AFB held its annual meeting January 9 – 13 at the Washington State Convention & Trade Center in Seattle, Washington this year. Delegates represented all fifty states before an audience, which exceeded 5,000 attendees.
The diversity of agriculture represented at the meeting and AFB policy on the vast array of topics required a great deal of time, patience and consideration to move forward in the better interest of our country. To read more about the trip click here.
---
The Producer's Voice
We rely on history in our search to move forward, it recounts lessons of our success and failure and is littered with the many experiments, which put us here today. Some of the problems we face today result from yesterday's solutions and literally glare at us waiting for a response in order to move forward, a lack of response confines us to facing the result of our current dilemma in a repetitive cycle of crisis after crisis. Read more
---
Farmers Need to Take Charge
On Monday, October 6, Alltech, a world supplier of products which enhance animal nutrition and health, hosted The Global 500 Dairy Expo. The event was a gathering of dairy farmers and industry representatives from 30 countries around the world, over 400 people were in attendance. To read about the Read more
---
U.S. Senate Judiciary Hearing on Dairy Pricing
The U.S. Senate Judiciary Committee conducted a hearing on Dairy Pricing in St. Albans Vermont during September of 2009. I was honored to be asked to present testimony. Read more or Select this link to view the testimony.
---
Vermont Cow Power Contingent travels to Rimouski, Quebec
August 20, 2009
The idea of this trip started in the fall of 2008 when Dominic and Najat Dufour traveled from the Gaspe Peninsula Quebec Canada with their 3 year old daughter Leila to visit the CVPS Cow Power™ project at Green Mountain Dairy in Sheldon, Vermont. After their visit, the Dufours invited Bill Rowell to the city of Rimouski to speak with a group of people interested in championing the idea of developing anaerobic digesters on the smaller farms of their region. The delegation had the endorsement of Vermont's Governor, Lt Governor and Secretary of Agriculture. The Rimouski Quebec group was very interested to learn about how CVPS Cow Power™ works, and the process of bringing together the various groups to facilitate such a project. To read more about the trip click here.
---
Dairy Solution Requires Balance
US dairy farms will produce 190 billion lbs of milk this year exceeding current demand by 4%, market response to this national oversupply has taken the price of milk per cwt from last year's high of $23.50 to its present low of $10.50 the farmers' cost of production is $17.50 cwt.
In their struggle to survive deplorable economic conditions over the past 6 months, dairy farmers across the nation have converted a lifetime of accumulated equity into $4.5 billion worth of loans. Included in this struggle are businesses within our communities which represent the infrastructure of rural America and characterize Vermont. Read more
---
National Consensus
The Northeast Dairy Summit held on March 20, 2009 in Burlington, Vermont organized by Dairy Farmers Working Together (DFWT) gathered 250 industry leaders from across the nation. Farmers are becoming aware that consensus on otherwise divisive issues, which have held the dairy industry captive for many years, would allow political leadership to move forward with a long overdue national effort. Read more
---
How Do you Stop a Crisis?
While it is recognized that markets fluctuate, our need for a milk market finds us producing for some that are volatile. Last year's export market of nearly 11% quickly disappeared causing an over supply of milk which invited our current situation. We need to identify stable markets for our product, manage our supply to meet demand, and discourage a market surplus through price. Read more
---
Northeast Dairy Summit
March 21, 2009
Dairy Farmers Working Together hosted the Northeast Dairy Summit on March 20, 2009 in Burlington, Vermont.
Thank you to our attendees and everyone whose hard work made the conference a success!
Featured Speakers were Nationally Recognized Dairy Economist Chuck Nicholson, Cornell University; John Meyer, Holstein Association; Rob Vandenheuvel, Milk Producers Council; Calvin Covington, Southeast Milk Inc.;
Bob Naerebout and Jim Stewart, Idaho Dairymen's Assoc.
DFWT remains committed to providing creative answers in unsettled times.
Contact 802-848-7446
---
CVPS Grant Awards
The CVPS Renewable Development Fund awarded grants totaling $666,000 to defray the cost of building farm-based electric generating systems to support the company's Cow Power renewable energy program.
- http://www.rutlandherald.com/apps/pbcs.dll/article?AID=/20060404/NEWS/604040315/1011
---
U.S. Senate Agricultural Committee Field Hearing
On March 12, 2007 the U.S. Senate Committee on Agriculture held a field hearing on the 2007 Farm Bill, in Montpelier, Vermont.
I was asked to give testimony for the Vermont Farm community. Read more
---
Land Conversions
Today we recognize the importance of environmental stewardship as never before. Our common goal: To protect our natural resources. It is of critical importance that we proceed with rules designed to address our environmental needs but perhaps of greater importance, to put things in a context which effectively meet the needs of everyone involved. Read more
---
Supply Management Tools
Desperate to eliminate a milk surplus of nearly 4%, dairy farmers now recognize their lack of control over the market and face reality with only two options, either produce milk or go out of business. Dairymen operating well below their cost of production recognize the current surplus has cut their milk check in half. Three months ago the dairy industry questioned national acceptance of a supply management program, today dairymen expect one. Read more
---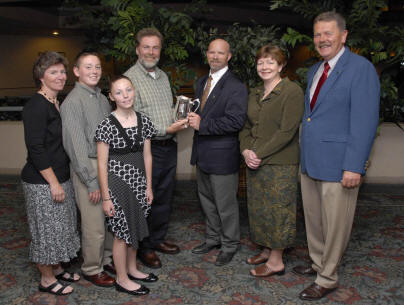 Brian & Bill Rowell Families accepting the Vermont Farm of the Year award
Green Mountain Dairy Recognized As Vermont Dairy Farm Of The Year
By Lisa Halvorsen
Freelance Agricultural Journalist for University of Vermont Extension
Like many top dairy producers in Vermont, Brian and Bill Rowell attribute their success in large part to their ability to think outside the box to maximize available resources to maximize profits. Cow comfort ranks high on their agenda, as does communicating effectively with their 15 fulltime employees and using sustainable practices to protect the environment and preserve the land for future generations.