[ Home ] [ Leadership ] [ About Bill ] [ News ] [ Chuck ]

Vermont Cow Power contingent travels to Rimouski, Quebec
By David Dunn
The idea of this trip started in the fall of 2008 when Dominic and Najat Dufour traveled from the Gaspe Peninsula Quebec Canada with their 3 year old daughter Leila to visit the CVPS Cow Power™ project at Green Mountain Dairy in Sheldon, Vermont. Dominic, an electrical engineer semi retired from teaching at Cégep de Rimouski and his wife Najat were very interested in the technology and how Cégep, the local college, could work with their local farmers to develop similar, but much smaller scale projects. Rimouski, a city of about 40,000 is surrounded by many small dairy farms, the largest of which is about 200 milking cows. The city sits on the St. Lawrence Seaway directly north of the northern most border of Maine and is 400 miles northeast of Vermont.
<![if !vml]>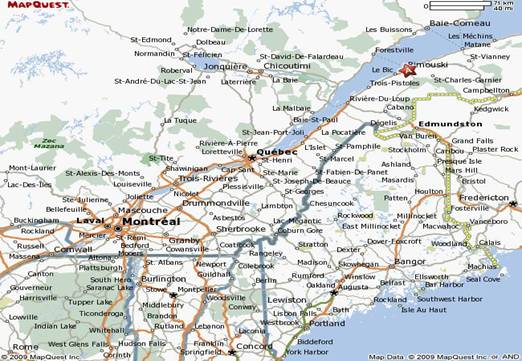 <![endif]>
After visiting Green Mountain Dairy, the Dufours invited Bill Rowell to the city of Rimouski to speak with a group of people interested in championing the idea of developing anaerobic digesters on their farms. Bill encouraged them to sponsor the trip and include dairy farmer/translator Paul Bourbeau, and myself, Dave Dunn, to round out the utility side of the presentation. The delegation had the endorsement of Vermont's Governor, Lt Governor and Secretary of Agriculture to travel as representatives of the State of Vermont. The Quebec group was very interested to learn about how CVPS Cow Power™ works, and the process of bringing together the various stakeholder groups to facilitate such a project. They had previously faced a lack of interest from Hydro Quebec due to the smaller size of their dairy farms. Bill, Paul and I made it clear that anything is possible with an enthusiastic group supporting their efforts.
After driving for 10 hours we arrived at the Dufour family's bed and breakfast in the early evening of Thursday, August 20th , at water's edge of the Provincial Le Bic Parc. The view was stunning.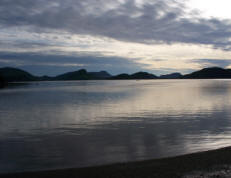 Our presentation had been advertized for Friday morning, 8:00 am at Cégep de Rimouski. Cégep college is comparable to a community or technical college such as Vermont Technical College. A group of scientists and environmentalists from the college have organized a formal group to champion the effort of building a digester on a farm, and have secured a $50,000 grant to do more research.
<![if !vml]>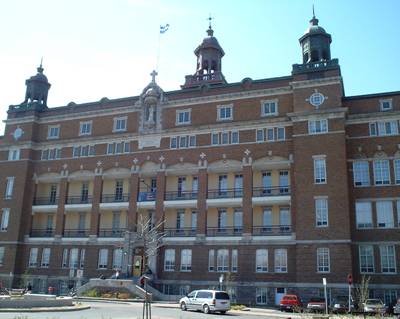 <![endif]>
The audience of 55 people included dairy farmers, college professors and instructors, students, and provincial officials. Bill Rowell started off the morning by describing his project at Green Mountain Dairy and showing slides of the construction process in chronological order. Paul Bourbeau provided excellent timely translation for the attendees, while a few understood English very well most spoke French. One professor had built a bench top digester and is working with the civil engineering students to design a more efficient system to work on the smaller dairy farms of their region. I followed Bill with an overview of the Cow Power program, and we answered many questions for the next three hours to satisfy their high level of interest.
Following a special luncheon, we were taken to visit one of the local farms, which is famous for not only their milk production, but also for their genetics. They have bred many national and international champion Holsteins on the St. Pierre farm. The owner Yvon St. Pierre and his son in law Jean Marc Bourdeau, spent three hours with us discussing agricultural practices and showing their prize winning herd. They hope to build a digester on their farm, perhaps in cooperation with a neighboring farm.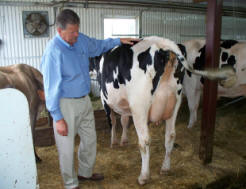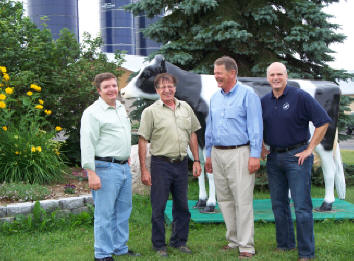 After the farm tour, we were honored with a lamb roast attended by many of the people from the morning's presentation at the college, as well as others in the community. There was a high level of enthusiasm to implement environmental controls to protect the natural resources of their region. They told us our success on the farm in Vermont partnered with a public utility had rejuvenated their enthusiasm. It is rewarding to know our work here in Vermont is recognized beyond our region and serves as both an example and inspiration to others.