[ Home ] [ Leadership ] [ About Bill ] [ News ] [ Chuck ]

October 2, 2010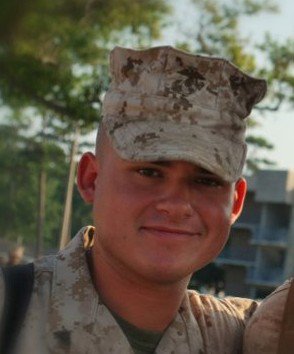 Well over 2,000 friends and neighbors attended the service including Senator Leahy, Senator Sanders, Congressman Welch, Governor Douglas, Lt. Governor Dubie, Franklin County's Senators and Representatives.
The service was officiated by Bishop Salvatore Matano and assisted by Rev. Father Thomas Nadeau. Prior to delivering the Eulogy, the following individuals were asked to join me at the altar; "LCpl Pelkey, LCpl Erchul, LCpl Donlon, SFC Fillion, Mr. St. Pierre and Mr. Gingras, Gentlemen please join me."
When we went to receive Chuck's body back home in Vermont, I rode in the hearse accompanied by Funeral Director Art Goodhue and Parish Priest Father Nadeau.
Distinguished Guests, Ladies and Gentlemen, A Eulogy to Lance Cpl. Anthony "Chuckie" Rosa
Hello everyone, for those of you who don't know me, my name is Bill Rowell, I fill many roles in this life and I have been privileged to be Chuck's friend, mentor and protector for the past 20 years. His grandfather, Mr. Berger, and I were best friends. He was a truly remarkable man, and a loyal friend to many of us here today.
One day Harold announced Darcie and Jimmy had a new baby, a boy, they named him Anthony James. We went to check him out and both agreed he looked like a good one. The grandchildren all know me as Bill Rowell. I have known and loved each of them since they were babies.
I have known both Harold and Ariel Berger to be kind, compassionate, highly ethical, service oriented people, who practiced their religion. Much of what we recognize in our beautiful young Marine today, was a result of that.
Chuck's grandfather was his idol. Pepe had a laugh and smile that could change the mood of an entire crowd. We golfed nearly everyday for many years, at age 4, Chuck got his first clubs. He became quite good, and at age 13, got his first hole in one at the Champlain Country Club. As soon as he was old enough to toddle along with his grandfather, aside from school, he was with us whether it was work or play. Steamed Hot Dogs. Chuckie loved steamed Hot Dogs, McKenzie's were his favorite. He would always ask; "Do you have any steamed hot dogs? Yes. McKenzie?" If the answer was no, he would reply, "Oh, well then I'll have just one."
Typically, our activities golfing, hunting, fishing, etc., involved older men. Chuck listened to the conversations, soaked it all in and began to understand the value of ethical standards. We instilled them, Meme reinforced them, but some were modified. He understood the value of being decent, of telling the truth, of compassion, of cooperation, of being of service to others; he understood that having backbone and using common sense were of no value at all, if you didn't have the integrity to be loyal to yourself and that being a gentleman was an honor which required it. He understood there was no compromise.
We are here today to witness the bestowing of Chuck's lessons to the people and communities he affected. While we honor him, we should challenge ourselves to discover his lessons and find a place in our lives to practice his wisdom.
"A man can be destroyed but not defeated." - Ernest Hemingway from the Old Man and the Sea.
We live in a beautiful part of the world, an agricultural region that is for the most part safe because of our servicemen and women. As a people we have a deep sense of community, moral values with a commitment to life and freedom, respect for religion and for one another, but a fierce independence with high expectations of others. As I stand here looking at all of you, you can't imagine the beauty I see. I recognize your outpouring of love and kindness as a reflection of who we are and of who we can be.
Many folks have kindly shared their stories with me; I would like to read a few. The mother of a young school friend recalls a basketball game when little Chuck captivated the audience and stole the show. She remembers a young boy approaching the hoop, contemplating whether he should shoot or not. He got his answer from the entire gym; as they yelled "UP CHUCK" It took a while for the laughter to stop. However, he did shoot and make the basket.
His High School Math Teacher - you could always tell when he hadn't done his homework because he would come to class and begin telling me how beautiful I was. When he was home, on leave, he would always make a point of coming to school. He was a wonderful young man. Mr. LaShure and I would refer to him as "Our Boy".
A special note from Karen Fortin – Her family is unable to be here today. Their son, Nathaniel is graduating from Warrant Officer Candidate School in Alabama. He will then train to become an Army Apache Helicopter Pilot. He wants to give the guys on the ground like Chuck and these young soldiers, air support because it saves American lives."
One of the things Karen admired most about Chuck was his ability to tell people that he loved them. It didn't matter who it was, even one of the boys. His buddies accepted his expressions and always gave it back.
An employer, Chris Ste Marie, says Chuck was very polite, even before joining the service it was "yes Sir, yes Ma'am", he was really well liked and down to earth, he had a lot of friends and was well known throughout the community. He was an exceptional worker.
Deb Whitney – He was a mother's son.
Chuck had asked his mother to send care packages. He felt bad that some of his buddies in Afghanistan had never received a letter or package, so Darcie and Meme honored his wish. The packages were sent the day he was killed.
Kathleen Ansari – of the many memories, one that stands out the most is the day you came in and talked to my class about the importance of not taking their education, their families or friends for granted. You had grown from a wonderful boy into an amazing young man.
Tim Osborn – My son served with Chuckie, They were in the battle together when Chuck passed. He made a great impact on the men in his squad. They miss him very much. He was just such fun to have around; he made them laugh during all the madness over there.
From a High School friend – I got my car stuck in a ditch; he came to my rescue at 1 in the morning.
My wife Nancy – None of us are perfect but he was close.
Chuckie was a Ford man, usually something of a rascal, he was always quick to point out the many fine attributes of a Ford car or Ford truck.
Chuck is the 39th U.S. service member from Vermont who has died since March 2003 in defense of our national interests in Iraq and Afghanistan. In the short time since his death 22 more soldiers have been killed in Afghanistan, U.S. and NATO troops, united in their mission to drive out those who would prevent a free exchange of our ideals.
227 years ago on November 10, 1775, the Continental Congress, meeting in Philadelphia, passed a resolution stating that "two Battalions of Marines be raised" for service as landing forces with the fleet. This resolution established the Continental Marines and marked the birth date of the United States Marine Corps.
Lance Cpl. Anthony "Chuckie" Rosa entered the USMC in October of 2008,
serving with G Company, 2nd Battalion, 6th Marines, 2nd Marine Division, II Marine Expeditionary Force, out of Camp Lejeune, N.C. He was proud to be a Marine.
The lessons Chuck learned in his early days followed him into his teenage years. He spread his grandfather's smile and laughter wherever he went. He brought it to his neighborhood, he brought his sense of friendship to school, he brought his sense of common sense and hard work to the jobs he held, and finally he brought all his lessons into the Marine Corps. and to places far from Franklin County, Vermont.
He was able to proceed along nicely without much help from anyone, he was a leader, people wanted to be around him. He made friends easily; people his age, young children, older people, old people. Everyone enjoyed him and they all knew that when he looked at you and smiled, he would steal your heart in the blink of an eye.
He understood life; he incorporated everything into making the right decision. Truthfully, for what he was capable of teaching humanity we couldn't spare him down here, we need his ability to teach the rest of us. What has taken us all this time since civilization began and we still haven't mastered, it makes you wonder how many eons have to pass before Mankind recognizes that being compassionate to one another is of greater importance than killing each other.
Heavenly Father we entrust Chuckie's care to you and his grandfather. Find a place for him in your house of many rooms and give our beautiful young Marine eternal peace. Our hearts are truly broken.
Chuckie on behalf of a grateful nation we salute you.
God bless you.